I recomend that you test your products, services, environments in real situations with the most demanding users. Not only to ensure inclusive design but also to be inspired to higher levels of innovation and to reach costumer satisfaction for a larger market potential.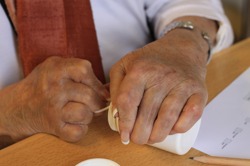 Evaluation of existing products, services or environments
I can help you to evaluate your existing products by puting together relevant user groups according to their needs. There is also a possibility to compare your solution with other similar solutions in market to show your position. The process is being concluded so you get clear feedback what you need to improve to include a larger target group and get more satisfied costumers.
Tests for approval from The Swedish Rheumatism Association

I am responsible for the test that Sweden for All performs on behalf of the Swedish Rheumatism Association.

The tests are conducted to measure the ease of handling of products and packages. As measuring instruments we use a group of 10-20 people with reduced hand function. During the test they perform and judge every handling step on a scale where 0= impossible, 1= very hard, 2= neither hard nor easy, 4= rather easy and 5= very easy.

The average result from the testing group is calibrated to a reference group of over hundred people with reduced had function. Your package can be approved, and use a label from the Swedish Rheumatism Association, if the calibrated result is good enough for all handling steps. The method is scientifically reviewed. Approximately six products or packages can be tested at the same occasion.

The result is delivered as a report with graphs showing the results, comments on the handling steps from the test people and pictures as an option. If a package is approved there will be a separate agreement with the Swedish Rheumatism Association about how to use the label. You can also order video documentation from the test.

Be a Test Person
Lena Lorentzen Design is connected to Sweden for All, that employs people with disabilities on hour basis during test occations.
If you have any kind of disability and are interested in influencing the design of products, packaging, services and environments please follow the link to Sweden4All.se